I The Build Haiti Foundation
I wanted to mention a couple of upcoming events that celebrates our community's diversity. The first one is about a celebration on the one year anniversary of the World Languages Cafe at Wegman's. Here is the information I received from the Columbia Association about the Cafe:
"
¡Feliz Aniversario! CA's World Languages Café Celebrates One Year of Conversation and Culture, Meets Again March 26

Joyeux anniversaire. Feliz aniversario. Schönes jubiläum. Columbia Association's (CA) World Languages Café program is celebrating a year of providing great evenings of conversation and culture in 15 different languages.

Thanks to the continuing partnership and support from Wegmans, the World Languages Café provides community members with a great place to speak a language they know or are learning, to converse in a friendly atmosphere, meet new people who enjoy learning about other cultures, increase their fluency by speaking and listening, pick up useful phrases to use when traveling, and recall their childhood languages.

The World Languages Café meets on the fourth Wednesday of the month at the Wegmans Café, located at 8855 McGaw Road in Columbia. The next session is on March 26 from 7 to 9 p.m. People are invited to come upstairs and join the language table of their choice, whether they want to drop in or stay the entire time. On their way up, people can purchase a drink, snack or dinner from Wegmans to bring with them. The anniversary of the World Languages Café will be celebrated at 8 p.m. with cake.

Languages include Arabic, Chinese, Dutch, English, Farsi, French, German, Hebrew, Hindi, Italian, Japanese, Korean, Portuguese, Russian and Spanish. Language tables are hosted by native speakers who will facilitate conversation; these gatherings are not grammar or vocabulary classes.

To find out if there will be a native speaker of the language you are interested in practicing, or for more information, please contact CA's International Exchange and Multicultural Programs Manager, Laura Smit, at 410-715-3162 or Laura.Smit@ColumbiaAssociation.org. "
The second event is sponsored by the Build Haiti Foundation about their celebration on April 2. Here is the information on that event:
th Annual
4th Annual
Remember Haiti Event:
"Celebrate Haitian Culture"
Saturday, April 5, 2014
6PM – 9PM

The Wilde Lake Interfaith Center
10431 Twin Rivers Road, Room 4
Columbia, Maryland 21044
(410) 730-7920
Purchase tickets at
www.thebuildhaitifoundation.org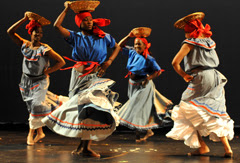 hocoblogs@@@