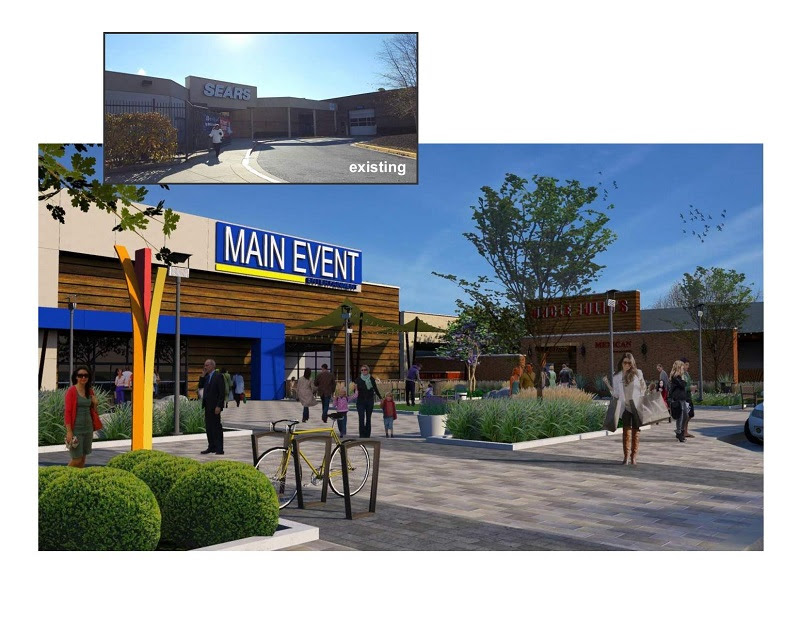 From Columbia Patch:
"
Downtown Columbia revitalization is getting another boost from

The Mall in Columbia

, which has announced new retailers and restaurants.

Sub Zero Ice Cream

and

Z Gallerie

home décor opened last month. The

Walrus Oyster & Ale House

will replace departed Uno's Pizzeria & Grill.

Shake Shack

will open in a portion of the space previously leased by Champps Americana.

Main Event Entertainment

,

Barnes & Noble

and

Uncle Julio's Rio Grande Café

will take over space on the upper level previously occupied by Sears. All are expected to open in the Fall of 2018. The Sears Auto Center and drive-through will be eliminated to make way for an outdoors plaza and seating area, similar to the existing adjacent plaza area. Sears will consolidate its business into its existing lower level space. Completion is projected for late 2018."
On the Village Center front here is information from the Columbia Association:
"Columbia Association (CA) and the Howard County Economic Development Authority (HCEDA) are collaborating on a new initiative to support retailers in Columbia's nine village centers.
The Columbia Village Centers Retail Development Program is being implemented to strengthen the village centers as retailing and community gathering destinations, and will assist small business retailers with technical resources to help ensure their success.
The program will focus on three components:
Retail Retention: Identifying and coordinating technical resources that will help existing village center retailers be more successful in their operations.
Retailer Recruitment: Locating and suggesting potential retailers to the village centers owners that would complement the existing tenants.
Branding, Promotion and Events: Identifying village center promotion opportunities.
"Columbia's village centers are a signature element of our community, but they have been affected by the changing retail marketplace over the past couple decades," said Milton W. Matthews, president/CEO of Columbia Association. "A goal of this program is to have fewer vacant spaces in the village centers and to attract more people into the centers for shopping and social gatherings."
"This partnership with Columbia Association will allow us to leverage our small business services with their intimate focus on the village centers to make sure that they can be enjoyed by families for decades to come," said Lawrence Twele, CEO of the Howard County Economic Development Authority.
Columbia founder James Rouse conceived and built village centers at a time when limited retail competition existed. This allowed The Rouse Company to place village centers in the center of the neighborhoods rather than along major roadways and to use limited retailer signage and an insular shopping center design. Today, there are many more competing retail outlets — both brick and mortar stores and online options. In addition, retailing and consumer preferences have changed significantly since the village centers were developed, with a preference today for locations with expanded merchandise or restaurant choices in one place and greater vehicular access/visibility. Many of the village centers are at a disadvantage in today's marketplace by not being located on major roadways.
The Columbia Village Centers Retail Development Program will focus on providing county and other technical support resources to existing retailers to help improve their operations, recruiting potential new tenants and promoting events for retailers to engage with new customers.
This initiative builds upon recommendations made in the Columbia Market Study. The consultant study, sponsored by Columbia Association, Howard County Economic Development Authority and Howard County Department of Planning and Zoning, examined existing market conditions and future potential opportunities for Columbia's village centers. It recommended the consideration of a retail recruitment and retention program for Columbia's village centers."
#hocoblogs