With all the talk of how difficult it is for our federal elected officials to agree on averting the "fiscal cliff" we can see how partisan politics can frustrate any rational effort to solve our Country's financial dilemma. It seems as if the officials are deaf to the public's frustration with their inaction.
Into this situation online
"crowdsourcing"
sites have sprung up to allow anyone to participate in an online survey to identify their budget priorities. One of the most popular site is hosted by the Committee for a Responsible Federal Budget.
Their simulator allows anyone to make decisions on producing a federal budget.
Try it to see if you can produce a balanced budget. Some local governments have experimented with allowing their citizens to give input in the budget process. The
island of Kauai in Hawaii is an example of this
.
As we approach the new year Howard County will be preparing to produce its FY14 (July 1, 2013-June 30, 2014) County budget. It is hard enough to think of 2014 when we haven't yet entered 2013. For many years I was involved in the budget preparation for a County agency and it was definitely the busiest time of the year. Many long days and weeks went into preparing a budget, especially in the days before spreadsheets when you worked with a calculator, pencil and paper. Making all the numbers add up right was a challenge. Every year the message put out by the Budget Office was that it was going to be a tight budget year and new efforts would be very limited. After a while you realized this is just the standard message that budget offices routinely put out. Fortunately for Howard County the revenues most years were sufficient to grow with our growing population. We had a healthy business sector and a strong upper income population. This allowed the County to develop services that were the envy of most jurisdictions in Maryland. Move to another jurisdiction and you will realize how excellent Howard County's public sector services are compared to other jurisdictions.
This gets me to an idea for the County Executive and Budget Office to consider. Every year the County Exec and Budget Officer hold public hearings around the County to get citizen input on the budget they are beginning to put together. Having attended some of those sessions you get the usual advocates for schools and non profit organizations requesting dollars for their programs. Once and a while you will get a citizen who will complain that taxes are too high. The input at these sessions will come from less 1% of the residents of the County. Unless you are strongly engaged with some county organization you will probably never participate in one of these sessions. So maybe the County could look at developing an online survey that identified the budget priorities of a larger segment of the County residents. This would be an example of crowdsourcing our budget. I am suggesting that the results be just another wider input in putting the budget together. The Budget Office and the County Exec are still the best ones to weigh all the inputs in putting the budget together but this method might give a broader input into the priorities of County residents.
This approach could also serve as a tool to educate HoCo residents on what the Howard County budget looks like and what it funds. I am willing to bet that most residents know very little about where their County tax dollars go.
P.S.
I have heard this amazing story and registered for this presentation. Hope you would consider attending too.
"
Meet the Author: William Kamkwamba, November 29th at 7 pm at the Miller Library in Ellicott City
---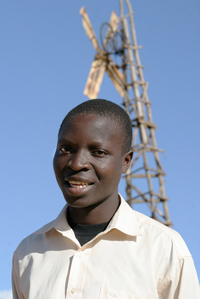 When William Kamkwamba was 14 years old, his native country of Malawi was stricken by a terrible famine. Using his curiosity and ingenuity, he cobbled together a working windmill to provide crucial electricity to his family's farm. In his New York Times bestseller
The Boy Who Harnessed the Wind
, Kamkwamba tells the story of how he achieved his dream of bringing electricity, light, and the promise of a better life to his home and community.
Currently a student at Dartmouth College, Kamkwamba was featured in the Wall Street Journal and has appeared on Comedy Central's The Daily Show, ABC's Good Morning America, C-SPAN Book-TV, and NPR. A 2007 TED Global Fellow, he was a student in the inaugural class of the Pan-African Leadership Academy in South Africa. An accomplished speaker, Kamkwamba has addressed audiences at the 2008 World Economic Forum, multiple times at TED, and at schools and universities across the globe.
Register here